A Practical Muscle Car
1
Dodge first entered the annals of automotive history back in the early 1900s, when machine shop owners and brothers Horace and John Dodge formed the Dodge Brothers Company. Over the decades, this unique American automobile company has released many now-iconic models, several of which are some of the best-known muscle cars in history.
2
Dodge's muscle car efforts reached their zenith in the late 1960s and early 1970s when the company's Charger model, first introduced in 1966, was redesigned for 1968. Second-generation Chargers sold in huge numbers and had world-class looks combined with powerful V-8 engines like the 426 cubic-inch (7.0 L) Hemi with two 4-barrel carburetors. A black 1968 version also featured prominently in a pulse-pounding car chase scene in 1968's "Bullitt," a classic Steve McQueen movie.
Today's Charger also features the kind of excitement found only in Texas. This four-door delivers stylishly good looks while also providing plenty of room for passengers and luggage alike.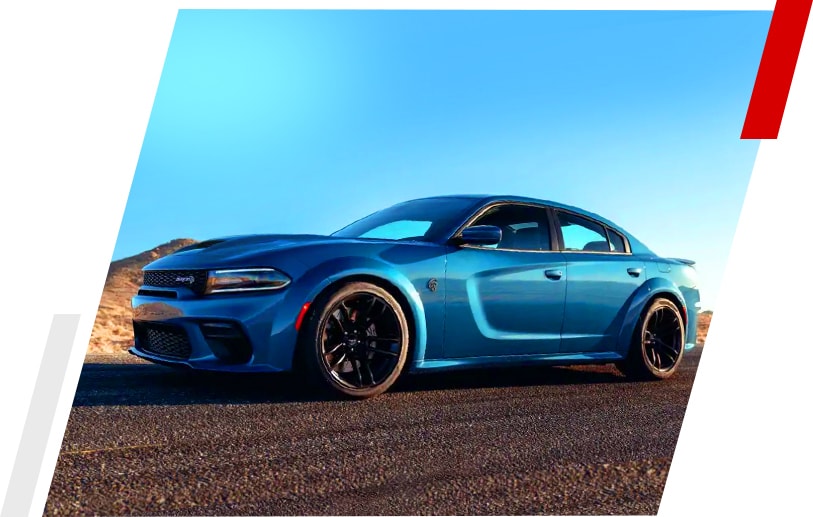 Exterior
Chargers are full-size sedans, and their four-door appearance is aggressive and yet welcoming at the same time. There are also seven different trim levels to suit practically anyone's taste when it comes to Dodge Chargers. Those trims range from "muscular sedan sporty" in SXT and GT outfits to "beastly muscle car looks and performance" at the upper levels: R/T, Scat Pack, Scat Pack Widebody, SRT Hellcat Widebody, and SRT Hellcat Redeye Widebody. Tool around the Floresville, TX, area in any of these Chargers, though, and heads will quickly turn.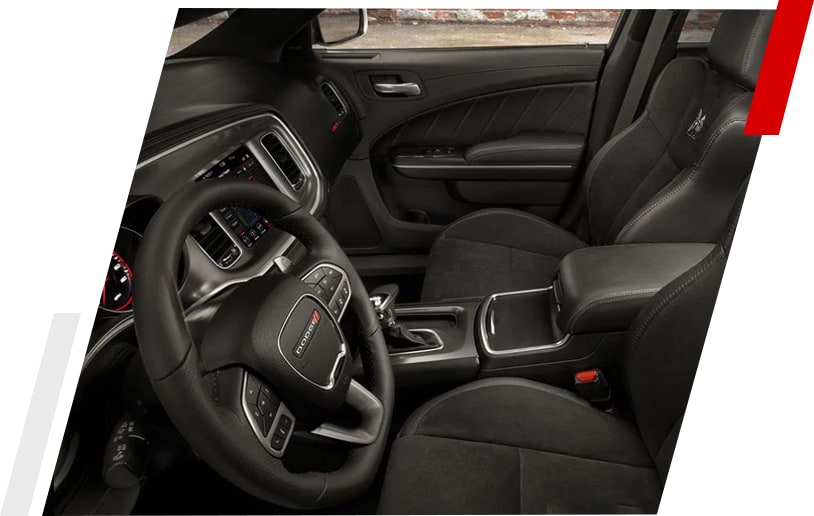 Interior
Engineers designed the Charger's interior for the benefit of drivers and passengers, and they wildly succeeded. They also don't sacrifice comfort or style, and all five passengers sit comfortably in this full-sized sedan's cabin. Available leather seating helps complement the Charger's spaciousness, and the seats themselves are supportive and welcoming. Trunk space in Chargers is capacious. With room for so much luggage, golf clubs, or anything else, a weekend trek from Floresville up to the Panhandle and back makes traveling Texas as easy as pie.
Technology
Dodger Chargers feature a full suite of technology features, including Dodge's UConnect and smartphone capabilities through Apple CarPlay support or Android Auto integration. Through UConnect, you can quickly pair your iPhone or Android smartphone and access all your apps, radio stations, and much more. The system's user-friendly touchscreen is intuitive, and you'll be able to display everything right on the system's display.

Performance
Depending on their trim level, Chargers can come with a V-6 or a V-8 engine. SXTs and GTs offer up a capable 3.6-liter V-6 and available all-wheel drive. At the upper trims, expect to find everything from a 370-hp 5.7-liter V-8 in the R/T up to a 6.2-liter high-output supercharged Hemi that puts out an astounding 797 horsepower.
Hellcats equipped with this V-8 are the most potent and fastest mass-produced sedans in the world. World-class braking and suspension systems also help keep today's Chargers firmly planted to the highways and byways of the Lone Star State, too.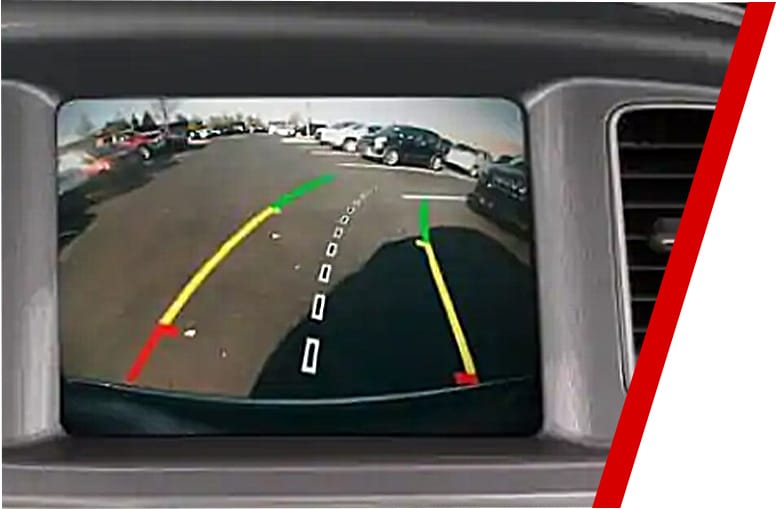 Safety
This truck is fitted with a fair amount of driver assistance technologies with the aim of improving the vehicle's safety. These include emergency braking (automated), adaptive cruise control, rear cross-traffic alert, forward collision warning, and blind-spot monitoring.
Driving this truck through Floresville, TX, has never been safer.
Gallery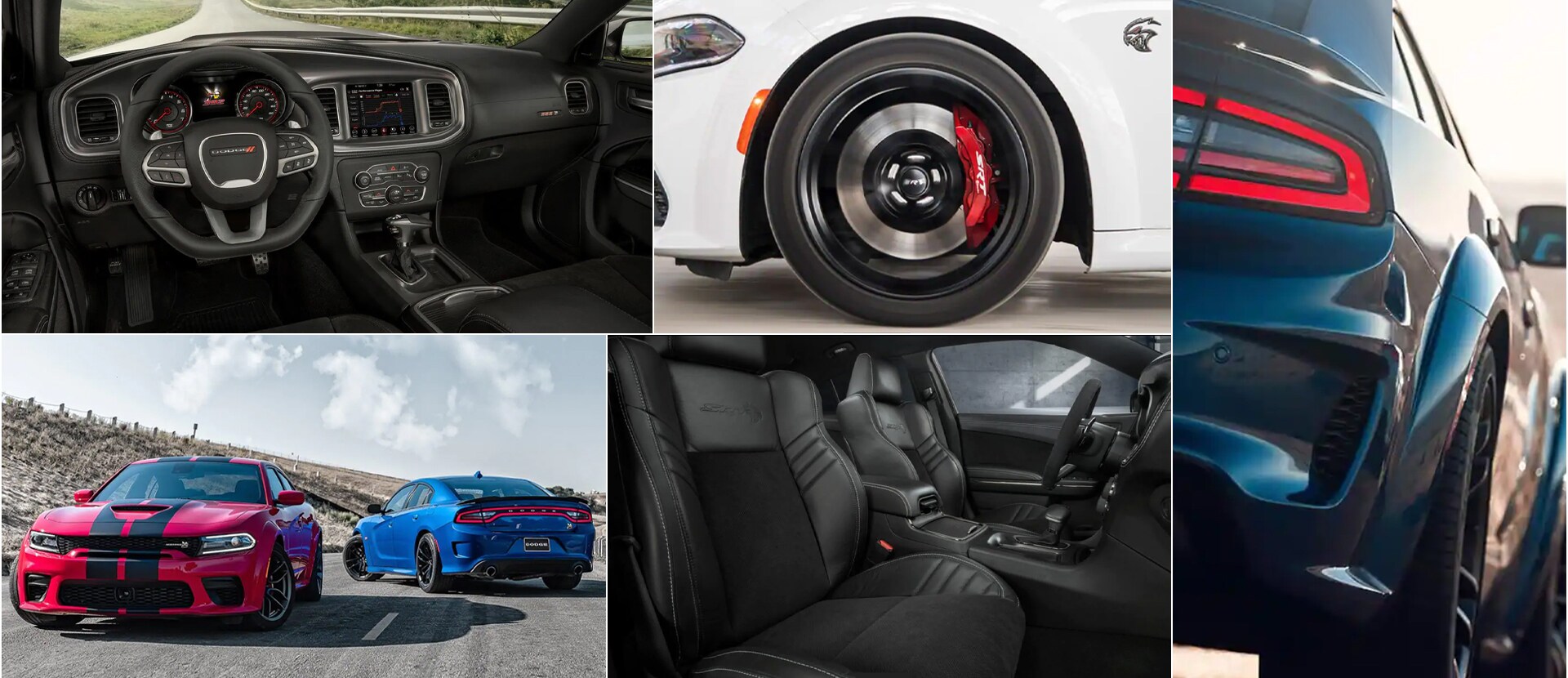 Choose Your Charger
Available in seven different styles.
Your test drive today
Floresville, TX
Dodge Chargers seem to be tailor-made for the Lone Star State and especially for Floresville, TX. The Charger practically begs to be taken out on the highways and byways around Floresville and then driven like you should move it. The Dodge Charger delivers world-beating performance in every regard. Its interior roominess and large trunk also make it a practical muscle car. Chargers are also popular cars. They don't sit on dealer lots for long. Fortunately for eager Charger buyers, Price Chrysler Dodge Jeep Ram serves Floresville and Schertz, Kirby, Converse, Pleasanton, and San Antonio. The dealership stands ready to put the Charger of your dreams in your hands right now, so don't forget to schedule your test drive today.