2021 Jeep Gladiator
With the pandemic taking a turn for the better, motor companies are releasing new models that are designed to meet the rising demand for improved models b car enthusiasts. One of the first things people are looking for is performance coupled with comfort. Residents of Floresville, TX, are well known for their love for trucks and SUVs due to their love for off-road driving, hauling cargo between different towns like Pleasanton, Kirby, Converse, San Antonio, and Schertz.
This article is centered on a review of some of the outstanding features of the Jeep Gladiator that will steer you towards any dealership in Texaslisting the model.
Exterior
This is the very first thing to catch your attention when browsing through different types of vehicles on the market. This model features a vented hood, high-clearance fender flares for the standard 33-inch tires, a steel off-road rear bumper, and rock rails under both the cab and thebed. The model also boasts of body-color fender flares, front and rear bumpers, exterior mirrors,and door handles.
It also exudes class through its black grille accents,badging and tow hooks with 20-inch glossblack wheels. With the signature Jeep LED exteriorlighting, you're assured of elegance whencruising through the road or trail.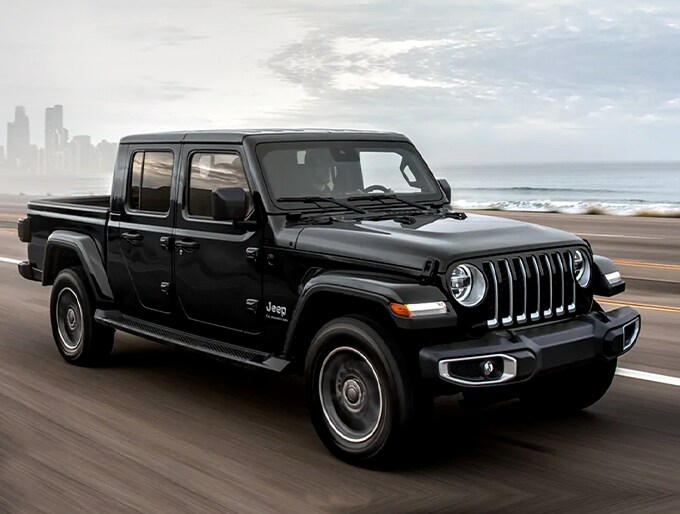 Interior
Inside the Gladiator, you find an upright dashboard designed to support user-friendly controls. It comes with heated front seats and a steering wheel. Its extended wheelbase plays a good part in providing enough legroom for both front and backseat passengers. The interior cabin also features various spots where you can keep your mobile devices, for example, the hidden compartment under the back seat.
This model's seat can be stowed in different ways to hold them in place, mostly in rugged road terrain securely. An exciting feature is the body and roof panels can be removed easily to create an open-air cabin.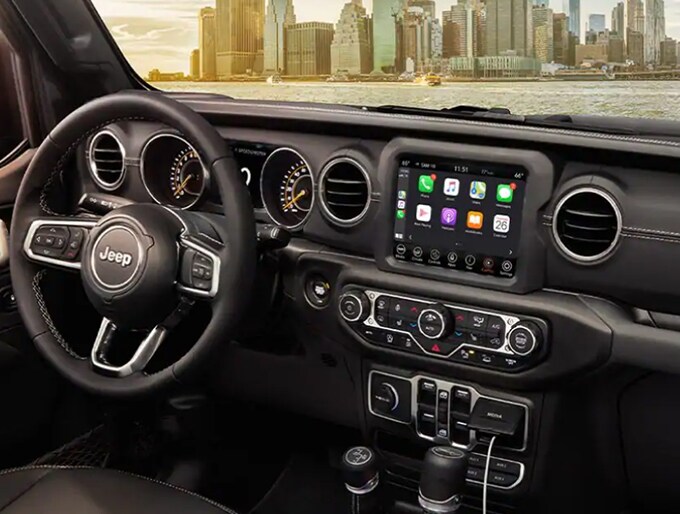 Technology
All Jeep Gladiator models come with a standard 8.4-inch touchscreen display with Apple Carplay and Android Auto. It is fitted with a stereo system that you can choose to upgrade by adding a subwoofer and a wireless and portable speaker fitted behind the back seat. The front passenger also has access to several power points that include two USBs and a C-port USB with a 115-volt outlet.

Performance
The Gladiator comes with a 3.6liter V6 engine capable of producing a horsepower of 285 and torque of 260lb-ft. The model comes with a standard six-speed manual transmission, with clients having an option of choosing an optional 8-speed automatic transmission. The Jeep has an extra 19.4 inches of space between the front and rear wheels, which helps to improve the vehicles handling.The standard manual transmission models are fuel-efficient, covering 16mpg on city roads and 23mpg out on the highways, while the automatic transmission cover 16mpg reduces its coverage on the highway to 22mpg.
This model also features some of the off-road fittings that outdoor enthusiasts look out for when shopping for a vehicle. Some of these fittings include skid plates, rock-crawling axle ratio that allows the vehicle to stay up to 30 inches of the ground. This feature provides for a good ground clearance allowing the vehicle to tread on unchartered paths comfortably. With the right add-on, this model is capable of towing up to 7650pound of cargo, with its bed being able to carry up to a maximum of 1700 pounds of payload.
Safety
This model is still undergoing several crash tests by the National Highway Traffic Safety Administration to determine its crashworthiness. The Insurance Institute for Highway Safety has also not completed its evaluation of the model to come up with a conclusive rating. However, the manufacturer has fitted the vehicle with several driver assistance technologies designed to help drivers with safe driving.
Some of the key standard safety features include adaptive cruise control with a forward-collision warning system, a blind spot monitoring system that can come in handy when driving under limited visibility, and rear parking sensors. However, the Rubicon model is also fitted with a front-facing camera that comes in handy when driving under rocks or on rugged terrains.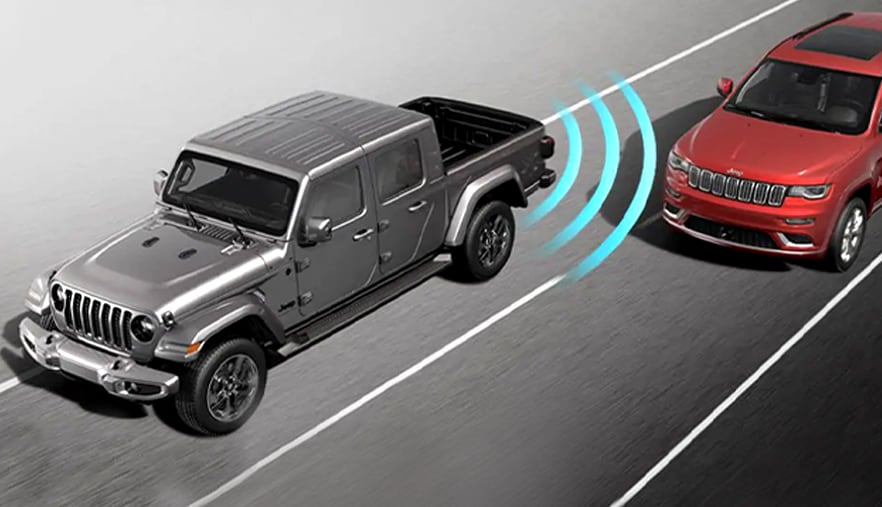 Gallery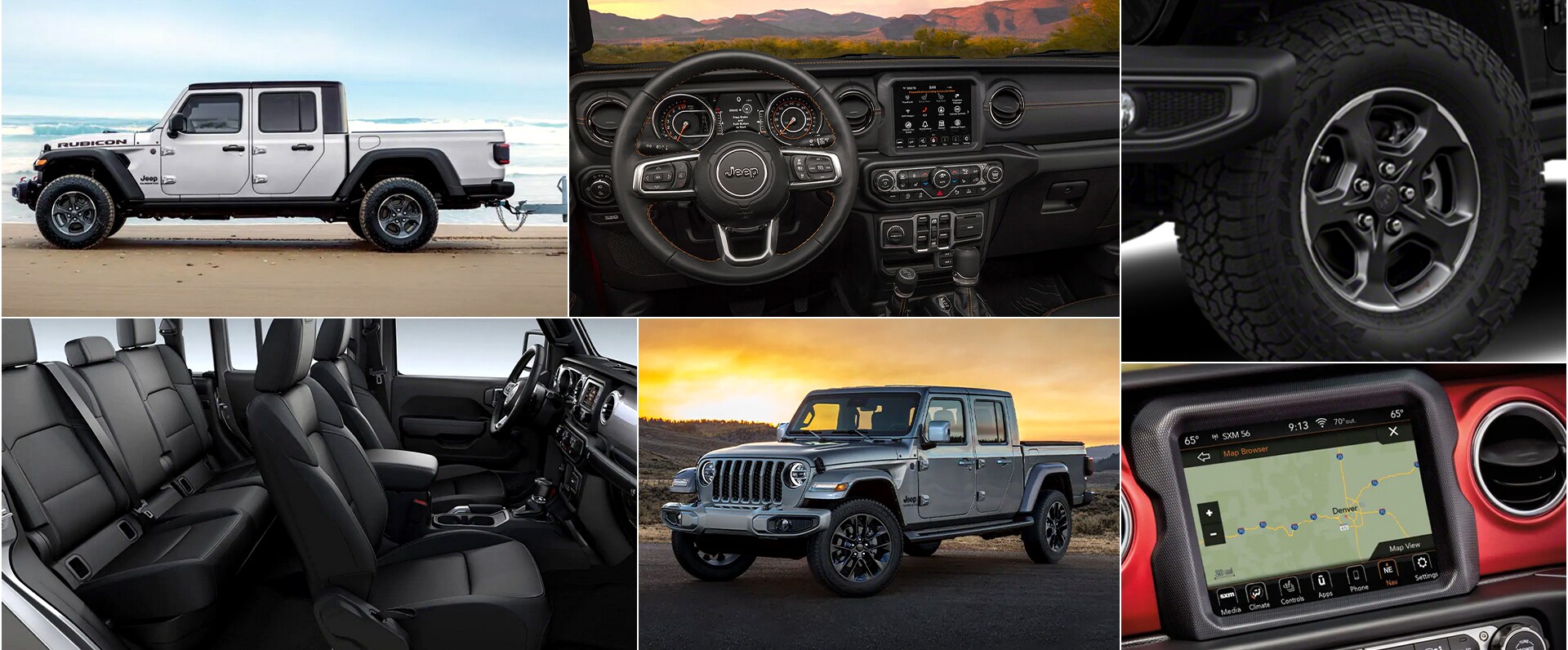 Buy gladiator in Floresville, tx
With a Jeep factory in Texas, dealerships in Floresville, TX, have something to smile about because of the reduced transport charges on all models bought from the company. The best part about buying your Gladiator from dealershipsin Floresville, you get an added advantage of accessing nearby servicing cities like Pleasanton, Kirby, Converse, San Antonio, and Schertz that have some of the best service stations in the state.